Retekess TR105 airband, am, fm, shortwave, CB world-band small radio is the great gift for the traveler, preppers, late-night radio listeners, Ham radio operators
Mini Size Pocket Radio: The size is 100x60x15mm, it much smaller but a bit thicker than an iPhone, the weight is 178g, convenient to carry outside. And it has high reception sensitivity.
Simple and Friendly Design: The on/off, key lock and headset jack are on TOP so that you don't have to remove the radio from your pocket to use those functions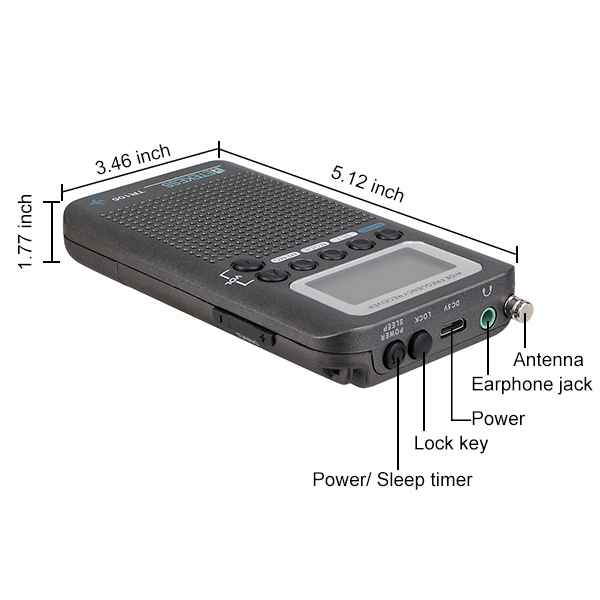 6 Band Options and Easy to Exchange:
AM: 520-1720KHz (9KHz/10KHz Step)
FM: 87.5-108MHz (100KHz Step)
SW: 2.3-30MHz  (5KMHz Step)
CB: 25-28MHz   (5KHz Step)
VHF: 30-223(FM-N/FM-W)  (5KHz Step)
AIR:118-138MHz (5KHz/25KHz Step)
Portable Radio with 50 Memory Presets: you could preset the radio stations which you like by manual or automatic search option, easy to set and find out the station that you want to listen.
Radio with Sleep Timer and Alarm Clock Function: For someone who likes to fall asleep at night listening to the radio, this little unit fits the bill. It has a built-in 24-hour clock and stopwatch with an orange backlight, it could also work as an alarm clock. And a sleep timer with 90, 80, 70, 60, 50, 40, 30, 20,and 10 minute settings
Key Lock Function: The lock switch can be operated to prevent accidental 'button pushes'.
Seven Section Telescopic Antenna to Make the Better Reception:
When listening to FM, SW, CB, AIR and VHF band, you could pull out the radio antenna apart to facilitate radio signal reception.
3.5mm Earphone Jack and 33 Levels of Volume Sound: The am/fm radio comes with the earphone (2 extra earbuds provided), also you could use your standard 3.5mm earphone to listen to the radio. Gives you more option to enjoy the stations that you like.
Rechargeable Radio: Built-in 700mAh 3.7v lithium battery and comes with USB charging cable, easy to charge and no extra cost of the AA/AAA batteries.
3 Meters External Soft Antenna: Connect it to boost the SW signal strength